Our Family Story
Ashley and Daniel and their two children moved to a few acres of land on the coast of Nova Scotia in 2017, their intention never to farm but with a backseat interest of being self sustainable. The next year they got a couple pigs to raise for their family and what was once a backseat interest became a growing passion to self produce the food they eat and turn it into a sustainable farm. Having no farming background, they were about the discover what they were really in for. Fast forward several years and many growing pains, they now operate on over 300 acres of vast wood and pasture land, with a growing operation of premium cattle. Ash teaches live sourdough classes to a worldwide audience. The kitchen and the milk stanchion are her favourite places to be, while Daniel could spend hours in the field with the cows or in front of his smoker or open fire. Their intention is to continue growing their herds to supply local customers with their beef as well as expanding and developing the surrounding acreage to a flourishing, pasture based, sustainable farm on the coastline of rural Nova Scotia.
Follow Along On Instagram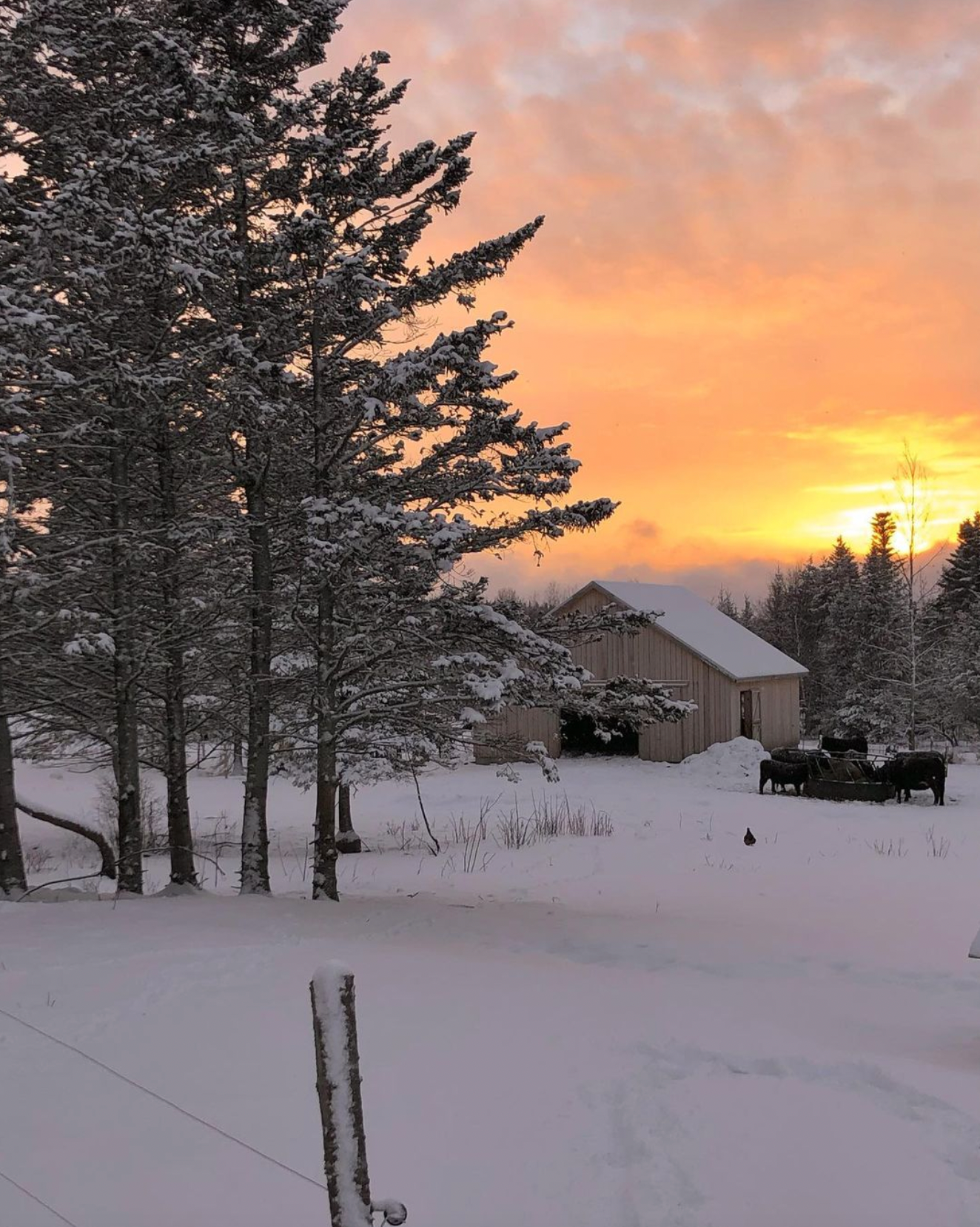 The Farm
Turner Farm is nestled into the coastal countryside of rural Nova Scotia, with many wooded acres and rolling pastures dotted throughout.  The forest in the winter and pastures in the summer are filled with black cows - F1 Wagyu and full blood Wagyu cattle. They, too, enjoy the shade from the trees in all seasons and grow thick fuzzy winter coats to shield them from the elements. Daniel and Ashley began farming in 2018, what started out as a few chickens and a few acres has quickly grown to over 300 acres of land and a growing ranch operation of cattle. They raise a cross between black Angus and Wagyu, and for full blood genetics they have a growing herd of full blood Wagyu breeding stock. On the farm side they raise their cattle, but on the homestead side, Ash has her flock of laying hens and her Jersey cows to milk for their family, as well as their horses. The animals are content and the children are wild, roaming freely among the acres they call home.
Farm Stay Rental Coming Soon!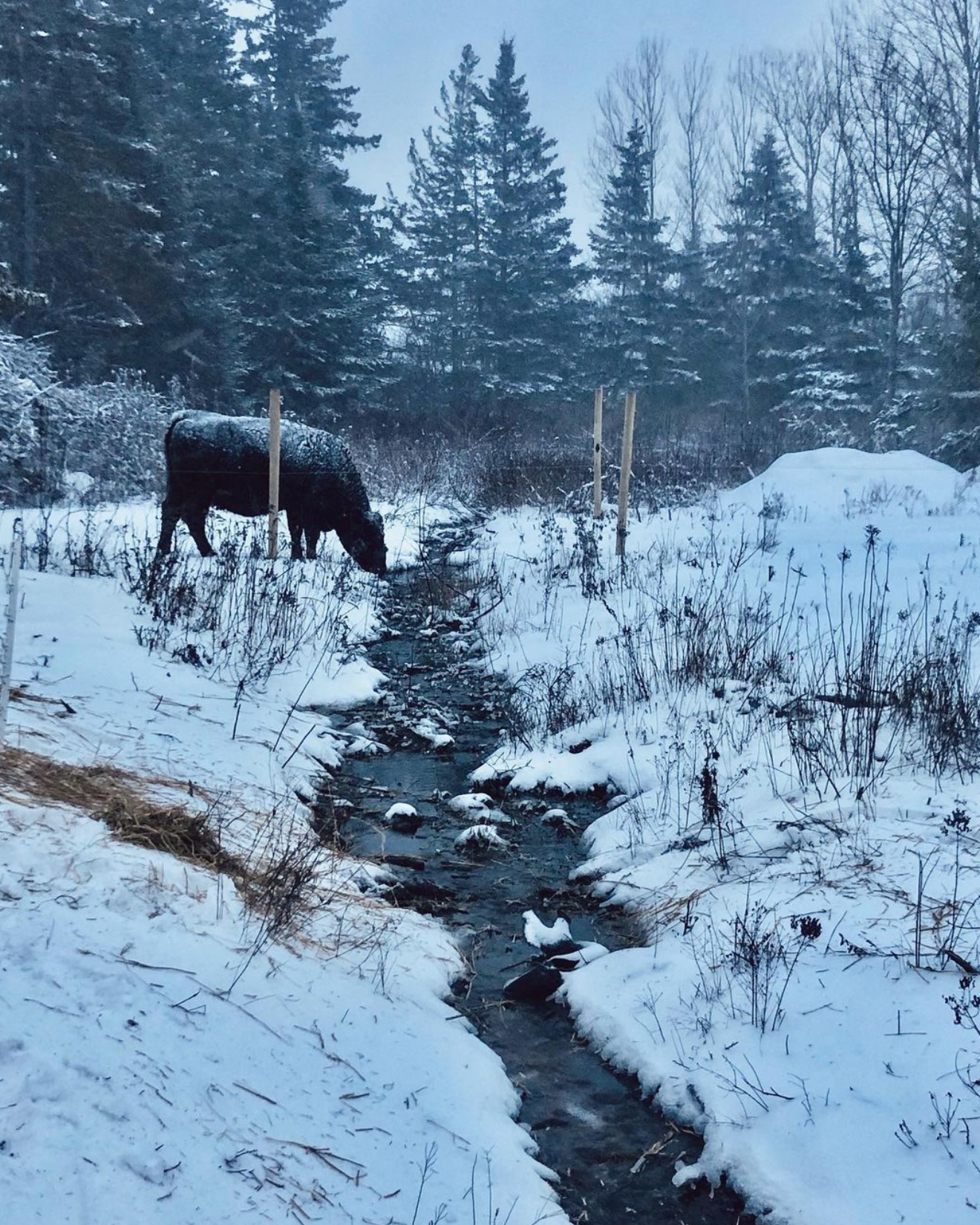 Our Cows
It is our goal at Turner Farm to create a premium, high quality beef, which brought us to this strategic choice of breed. F1 wagyu have smaller calves that grow well and our black angus cows have wonderful dispositions and mothering instincts. They thrive here with the cooler summer temperatures and breeze off the ocean, and fair well in the cold, harsher winters.Wagyu beef has a gene that is "switched on," which other breeds of cattle do not have, it basically converts poly-saturated fatty acids (or bad fats) into mono saturated fatty acids (good fats), making it not only rich in flavour but in health benefits too. The fat itself also has a very low melting point, so it basically melts away as soon as it begins cooking giving you that signature flavour it is known for. Wagyu cattle have flat muscles, so they are a leaner looking breed, taking longer to finish and delivering the highest quality to your dinner plate.While we are early in our program, we have chosen to breed a full-blood wagyu bull to our pure bred black angus cows to produce an F1 wagyu offspring, boasting a velvety smooth, melt in your mouth texture that also has those angus components that hang onto that rich beefy flavour with superior marbling.Along with our beef program, we also have a small, growing herd of full blood Wagyu that we will both sell for breeding stock, as well as finish for our gold standard premium beef.
Local? Shop Our Premium Beef Meat Boxes!